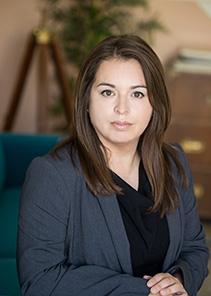 Jessica Zaragoza joined Neil Dymott Hudson as an associate in 2023. Ms. Zaragoza has been a member of the California State Bar since 2018. At Neil Dymott Hudson, Ms. Zaragoza focuses on the defense of healthcare providers against allegations of medical negligence.
Ms. Zaragoza attended California Western School of Law, where she earned her JD, cum laude. While at CWSL, she was on the Dean's honor list for multiple semesters, a Faculty Award recipient, and a property tutor for 1Ls. After law school, Ms. Zaragoza interned with the Family Law Facilitator's Office and the Legal Aid Society of San Diego. Following that, she volunteered with the San Diego Volunteer Lawyer Program.
Prior to law school, Ms. Zaragoza attended University of San Diego, where she earned a Bachelor of Arts degree in Political Science. She would then return to USD to earn a paralegal certificate and then work as a paralegal for a San Diego law firm for a few years.
In her free time, she enjoys spending time with her family, going on road trips, and reading.