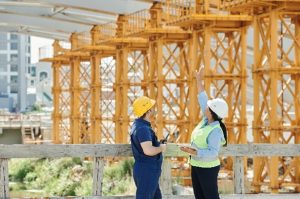 Neil Dymott Hudson attorneys have extensive experience in all phases of construction. From early planning stages to the completion of a project, our substantial trial experience provides us an in-depth understanding of the challenges posed by construction disputes.
We have represented local and national builders in a wide range of construction litigation including, construction defect, subsidence, mold claims, methane, surface waters, class actions, as well as bad faith insurance claims. We have also handled complex matters involving subsurface and well water, asbestos, soil contamination, hazardous waste, construction contracts, lis pendens and mechanics lien claims, indemnity, and additional insured issues.
Our in depth understanding of all facets of construction and real estate issues allows the firm to plan cost effective strategies for handling construction disputes. We involve our clients in the decision-making process including preparation of a litigation strategy that does not lose sight of fiscal sanity.
We identify the options, provide a realistic assessment of our chances of success, and make recommendations to our clients. We obtain client approval before incurring significant expenses and work to find creative solutions through means other than litigation, when appropriate.  Neil Dymott Hudson attorneys provide zealous representation on behalf of our clients, whether in the courtroom or in dispute resolution negotiations before trial.
Neil Dymott Hudson attorneys are well-recognized for their construction law practice in San Diego, Riverside, San Bernardino, and Orange Counties. Representative clients include property owners, developers, contractors, subcontractors, construction managers, suppliers, manufacturers, architects, and engineers.