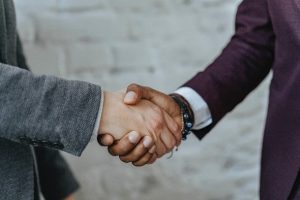 It is not uncommon for partners or board members and shareholders to disagree on the direction of a business entity. Business disputes (conflicts over ownership benefits, unfulfilled contractual duties or obligations, breaches of implied promises or agreements) can be time-consuming and costly. Sorting through these disputes is unpleasant when the business should be focused on building an enterprise. Our attorneys help businesses resolve these matters so they can get back to focusing on their true objectives. We understand the underlying issues that drive these disputes and carefully review and consider all avenues of resolution before parties become entrenched and litigation costs explode.
The first step to effective representation in business litigation is a thorough understanding of the client's operations, goals, and objectives. We carefully examine the facts and together with our clients, develop an appropriate strategy to reach a prompt, cost-efficient resolution of the dispute that is consistent with the client's goal. This can be accomplished through an early settlement, alternative dispute resolution, or by pursuing litigation through the courts. We recognize when a dispute occurs, you need to get back to business-as-usual as soon as possible. We provide the assistance to help you reach an effective, positive, and speedy resolution.
We handle a broad range of business litigation matters. We combine our expertise, trial skills and creativity to achieve extraordinary results in the representation of small and large business entities, as well as individuals.
We have assisted individuals and companies confronting various business issues including:
Breach of Fiduciary Duty
Business Torts
Contract Disputes
Corporate Dissolutions and Sales
Employee Benefit and Pension Plan Disputes
Executive Compensation and Severance Disputes
Partnership Disputes and Dissolutions
Products Liability Actions
Trade Secrets
Unfair Competition
Wrongful Termination/Harassment Claims
Our well-earned reputation comes from our experience to know when alternative dispute resolution will better serve our clients' interests or the decision to aggressively pursue cases through trial.
If litigation is necessary, we are courtroom veterans, skilled in trial and appellate advocacy and experienced in civil and regulatory matters. Many of the firm's litigation partners are members of the prestigious American Board of Trial Advocates. Our appellate expertise is equally broad in both Federal and California Courts of Appeal.