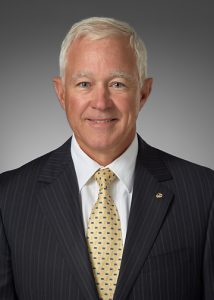 Clark Hudson, a trial lawyer, joined Neil Dymott Hudson in 1990 and has been a shareholder since 1997. Mr. Hudson specializes in civil litigation with emphasis in medical malpractice, professional liability, products liability, and personal injury.
Since joining Neil Dymott Hudson, Mr. Hudson has tried over 95 jury cases in various Southern California State Courts. Mr. Hudson is a former board member and past president for the San Diego Defense Lawyers. He was a Senior Director (2017-2020) for the Federation of Defense and Corporate Counsel (FDCC).  Mr. Hudson is Past Section Chair for Trial Tactics. He received the John Alan Appleman Award for his work as FDCC Section Chair in 2009. Mr. Hudson is a past president for the Association of Southern California Defense Counsel.
Mr. Hudson holds the rank of Advocate in the American Board of Trial Advocates. In September 2010, Mr. Hudson was inducted into the prestigious American College of Trial Lawyers. Fellowship in the College is limited to the top one percent of the total lawyer population of any state or province. In October 2017, he was selected for fellowship in the International Society of Barristers.
Mr. Hudson was named as one of San Diego's Top Attorneys in Insurance Law in 2006, and again in 2009, by the San Diego Daily Transcript. He has been named one of Southern California's "San Diego Super Lawyers" by the publishers of Law & Politics Magazine since 2007. Since 2009, Mr. Hudson was selected by his peers for inclusion in the Best Lawyers of America® in Medical Malpractice Law, and for 2013 and 2018 was named the Top Medical Malpractice Defense Lawyer for Best Lawyers of America®. Mr. Hudson was also named Defense Attorney of the Year (2012) by the San Diego Defense Lawyers.
Mr. Hudson served as an Infantry Officer in the United States Marine Corps. He was on active duty in 1983-1986 and was called back to service in 1991 in support of Desert Storm.