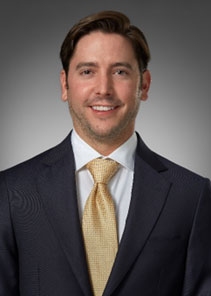 Randall (Sonny) Stepp joined Neil Dymott Hudson as an associate in April 2022.  His practice areas include general, civil litigation and the defense of malpractice and professional liability matters.  He is a member of San Diego Defense Lawyers, San Diego County Bar Association, Beverly Hills Bar Association, and the Los Angeles County Bar Association.
Prior to joining Neil Dymott Hudson, Mr. Stepp was an associate attorney at a full-service, litigation firm.  His practice included representing clients on employment law, commercial and business transactions, and real estate matters.
Mr. Stepp earned his Juris Doctor from California Western School of Law.  During law school, he worked as a clerk for a San Diego Law firm handling civil litigation, real estate, and bankruptcy matters.
Mr. Stepp is originally from Fort Worth, Texas.  He received his Bachelor of Business Administration from Texas Christian University.  Prior to law school, he managed and leased commercial space as a real estate agent. Additionally, he was involved in commercial, land transactions.
In his free time, Mr. Stepp enjoys playing golf, listening to music, playing tennis, and spending time with his friends and family.