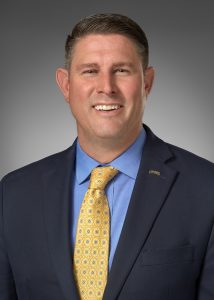 Benjamin Howard joined Neil Dymott Hudson as an associate in 2005 and became a shareholder of the firm in 2013. Mr. Howard's practice areas include general and professional liability matters, personal injury, and the defense of medical malpractice claims. He is a member of the Association of Southern California Defense Counsel and in February 2016, was elected to the Board of Directors for San Diego County. He is also a member of Defense Research Institute, San Diego Association for Healthcare Risk Management, San Diego County Bar Association and a member and past president of the San Diego Defense Lawyers (SDDL) for 2013.
In 2019, Mr. Howard was recently accepted to the prestigious Federation of Defense & Corporate Counsel. Membership in FDCC is limited and by nomination only. Election is by the FDCC Board of Directors upon recommendation of an independent Admissions Committee.
In 2008, he was awarded the Distinguished Young Attorney Award by the San Diego Defense Lawyers Association for his professionalism and dedication to excellence. He served on the Board of Directors for SDDL from 2010-2012 and was treasurer in 2011. In 2007, and again in 2010, Mr. Howard was recognized by the San Diego Daily Transcript as one San Diego's Young Attorneys.
Mr. Howard attended University of Iowa College of Law, where he was president of the Hammond Chapter of Phi Alpha Delta, an honorary legal fraternity. While attending law school, Mr. Howard worked as a law clerk at Neil Dymott Hudson assisting in medical malpractice litigation matters.
In addition to his legal career, Mr. Howard served in the United States Army for five years as an infantry officer. Following graduation from the United States Military Academy, Mr. Howard served as Company Executive Officer at the Presidio in Monterey, California. From 1998 to 2001, he served as a Rifle Platoon Leader and the Battalion Adjutant in Hohenfels, Germany. He was also selected to brief and escort visiting U.S. and foreign dignitaries. Mr. Howard is also a recipient of the Airborne and Air Assault Badges, as well as the Rangers Tab.
Mr. Howard is originally from Brainerd, Minnesota. He attended the United States Military Academy where he earned his Bachelor of Science degree in Psychology. Mr. Howard received his Master's in Human Relations from the University of Oklahoma.