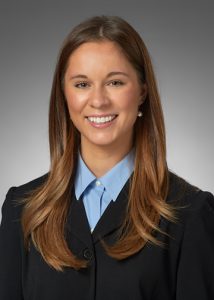 Madison Hutzler joined Neil Dymott Hudson as an associate in 2021. Ms. Hutzler's practice areas include general civil litigation and the defense of general and professional liability and medical malpractice matters. She is a member of the SDCBA, ASCDC, and SDDL. Ms. Hutzler is admitted to practice in the State of California.
Ms. Hutzler attended the University of San Diego School of Law where she earned her Juris Doctor. While attending law school, Ms. Hutzler worked as associate corporate counsel in the consumer lending and investment banking industry with San Diego corporations. She also worked as a clerk in a San Diego law firm handling private trust and estate litigation.
Prior to joining Neil Dymott Hudson, Ms. Hutzler lived and worked in Wellington, New Zealand, where she worked for the New Zealand Department of Internal Affairs. Ms. Hutzler is originally from London, Ontario, Canada. She attended the University of Western Ontario, where she earned her bachelor's degree with honors in International Relations.
In her free time, Ms. Hutzler loves spending time with her two dogs and family. She also enjoys doing home improvement projects, lounging at the beach, watching the Toronto Maple Leaf ice hockey team, and finding new favorite sushi restaurants.