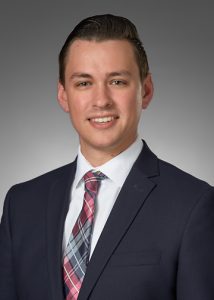 Mark Krok joined Neil Dymott Hudson in February 2021. His practice areas include the defense of professional liability and medical malpractice matters. He is a member of San Diego County Bar Association, San Diego Defense Lawyers, and the Association of Southern California Defense Counsel.
Mr. Krok earned his law degree from California Western School of Law. While attending law school, he worked for the San Diego City Attorney's Office in the General Trial Unit and Gun Violence Unit. He also worked as a clerk for a San Diego law firm handling insurance subrogation and general liability matters.
Mr. Krok is originally from Chicago, IL. He attended Arizona State University, where he received a Bachelor of Arts in History with a minor in Political Science. Prior to law school, he was a paralegal for a personal injury law firm in Chicago.
In his free time, Mr. Krok enjoys outdoor activities like biking, hiking, playing golf, and playing in adult softball leagues. He also likes going to sporting events, concerts, and enjoying all the good food San Diego has to offer.