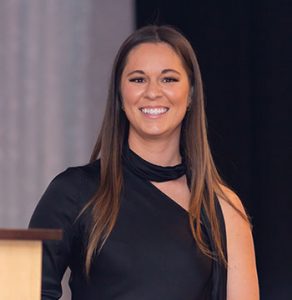 Madison Hutzler joined Neil Dymott Hudson as an Associate Attorney in 2021. Upon her arrival, it became evident that she was an associate with a lot of drive and potential to be great in the field of law. In her two years with the firm, she has already successfully been able to second chair a jury trial and work side by side with our remarkable Clark Hudson.
Her talent has not gone unnoticed as she has been honored as Outstanding Attorney of the Year for 2023 by San Diego Defense Lawyers (SDDL). SDDL is a long-standing organization that provides a forum for mutual education amongst member attorneys in San Diego County to uphold standards of professional conduct.
Congratulations, Madison Hutzler, on this major achievement! We are incredibly proud to have such an outstanding young leader in our team and look forward to seeing your future accomplishments with the firm.