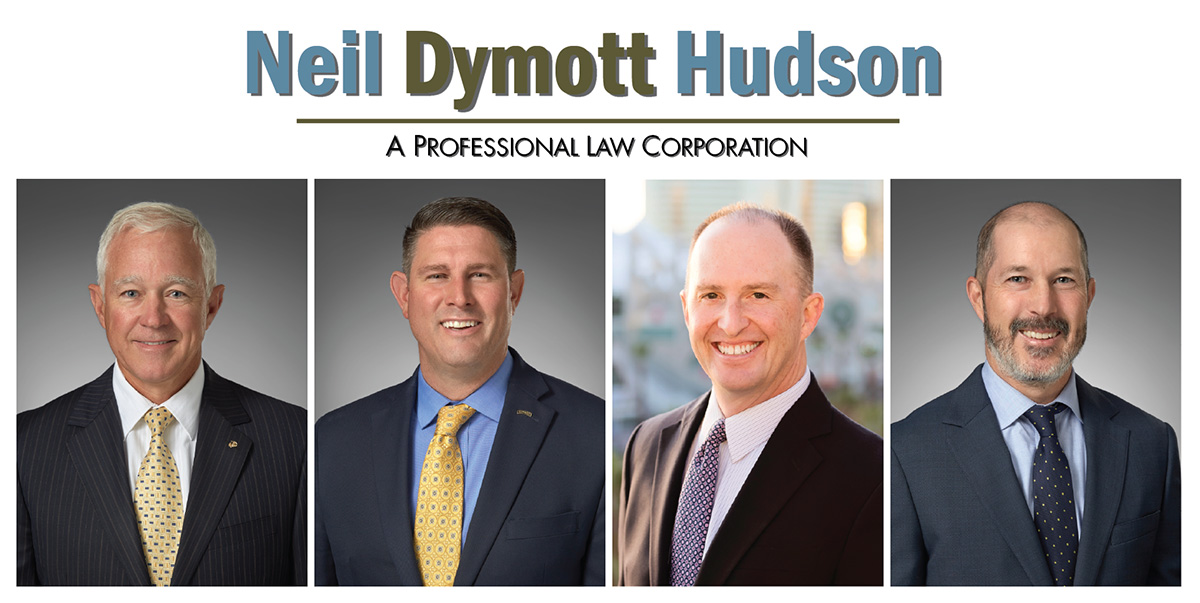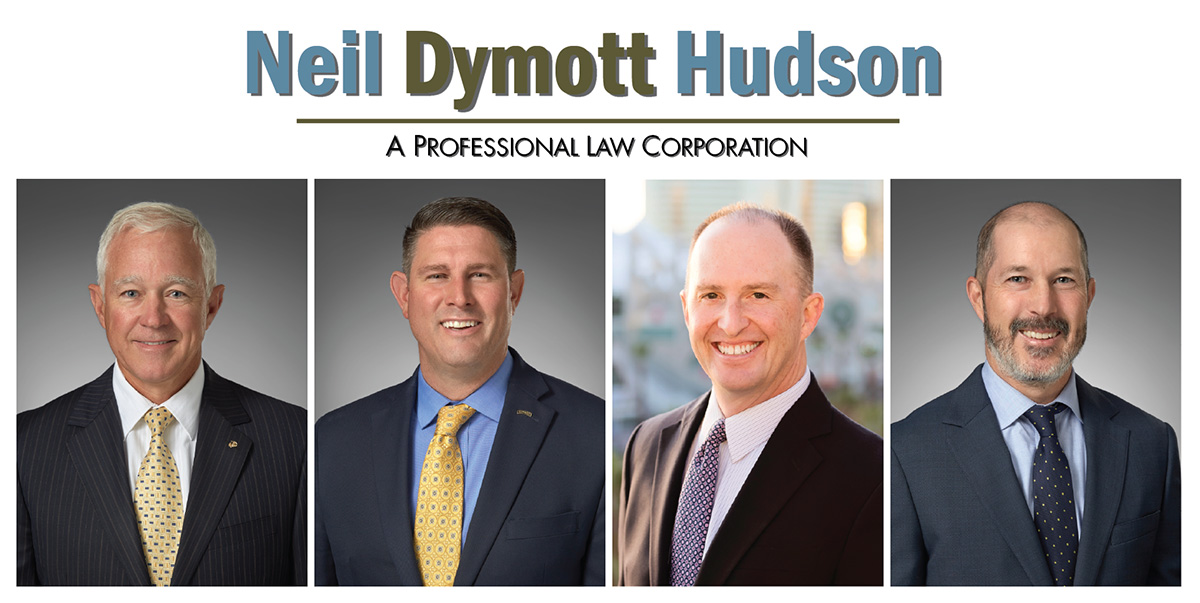 Neil, Dymott, Frank, McCabe & Hudson, APLC is thrilled to announce that as of May 4th,  2023, the firm's new name has been changed to Neil Dymott Hudson, A Professional Law Corporation!
Now, with Mr. Clark R. Hudson as President, Mr. Benjamin J. Howard as Vice President and Managing Partner, Mr. David P. Burke as Secretary and Treasurer and Mr. Alan B. Graves as Director, Neil Dymott Hudson will continue to prosper, mentor new associate talent, and provide its clients with dedicated service and superior results. With their extensive legal backgrounds, their primary goal is to have Neil Dymott Hudson continue to be one of the most successful Medical Malpractice and Legal Defense firms in Southern California.
The name "Neil Dymott" in the world of law is a name respected locally and nationwide. Since 2010, we have been ranked Tier 1 in San Diego for Medical Malpractice Law – Defendants and Personal Injury Litigation – Defendants by U.S. News – Best Lawyers® "Best Law Firms" for professional excellence and persistently impressive ratings from clients and peers, in addition to a myriad of other awards over the span of our existence. We have remained a staple to the community since opening our doors on February 4, 1964, as Holt, Macomber & Rhodes, APLC and will continue to do so as we approach 60 years of service in 2024.
All four shareholders started as law clerks with Neil Dymott and have become leaders in the industry because of the leadership of elite attorneys like Brigadier General Michael I. Neil, ret., and Thomas Dymott (deceased). Mr. Neil and Mr. Dymott had always exhibited the highest level of integrity and immense passion for their profession. Throughout their careers, they both earned exemplary reputations and served as an example for others to emulate. Their leadership along with their personal and professional contributions are the reason why their name has been retained as the core foundation of our firm. Mr. Dymott was a mentor to younger attorneys like Clark Hudson who will now follow in his footsteps and lead Neil Dymott Hudson to many more years of prestige and excellence in litigation defense matters, cultivating top talent, and as distinguished leaders in the legal industry.
Like Mr. Neil, Mr. Hudson also served in the U.S. Marine Corps on active duty from 1983-1986 and was called back to service in 1991 in support of Desert Storm. He has tried over 95 jury cases in various Southern California State Courts and is a former board member and Past President in 2007 for San Diego Defense Lawyers. He served as Senior Director (2017-2018) for the Federation of Defense and Corporate Counsel (FDCC) and was Past Section Chair for Trial Tactics. He is the current Vice-Chair for the Planning and Organization Committee and has received the John Alan Appleman Award for his work as FDCC Section Chair in 2009. Mr. Hudson served as President for the Association of Southern California Defense Counsel (ASCDC), the largest and most prestigious regional organization in the country devoted to the interests of civil defense attorneys since 1960. Mr. Hudson has been selected as part of The Best Lawyers of America® in Medical Malpractice Law since 2010. In addition, he was also named "Lawyer of the Year" in the category of Medical Malpractice Law – Defendants in 2013 and 2018 and was recognized in 2023 for his exemplary work in Medical Malpractice Law.
In 2024, Neil Dymott Hudson will have achieved 60 years of litigation experience primarily in medical malpractice defense, insurance defense, and personal injury as well as other practice areas. This diverse team of talent with varying medical, business, and military backgrounds brings exceptional skills to the table, assisting clients in navigating unfamiliar waters. Neil Dymott Hudson is committed to providing successful, efficient, and client-tailored results both in and out of the court room. As we continue to evolve in the coming years, the "Neil Dymott" Hudson legacy will remain intact: to always protect, defend, and reward the good practice of our clients.