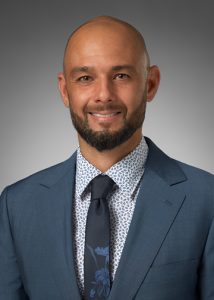 Jonathan R. Ehtessabian has over 15 years of civil litigation experience, specializing in medical malpractice/healthcare litigation, employment litigation, personal injury, and business litigation.  He is currently licensed to practice in California State Courts as well as the United States Southern District Court of California.
Mr. Ehtessabian was admitted to the State Bar of California in 2006 and obtained a 12-0 verdict in his first civil jury trial as a first chair trial attorney in 2008. Since then, he has worked up hundreds of cases from initial pleadings through final resolution, including several high-damages jury trials alongside senior shareholder, Clark Hudson.
Mr. Ehtessabian believes our ever-evolving system of laws and dispute resolution is a powerful force in shaping our society and legal professionals bear great responsibility to do right. In addition to his litigation practice, he founded and operates cafecorazon.com, a mission-driven coffee business that bridges his communities in Latin America and the United States and focuses on health, environment, and socioeconomic justice. In his communities, Mr. Ehtessabian has consistently provided pro bono services, including representation of political asylees and unaccompanied children with the Casa Cornelia Legal Aid Center, environmental legislation with the San Diego Surfrider Foundation, and community development with the Grupo Activo de Los Pargos.