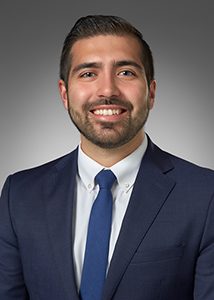 Omar Hernandez joined Neil Dymott as an associate in 2022. Mr. Hernandez's practice areas include general civil litigation and defense of medical malpractice matters. He is a member of the San Diego County Bar Association and is admitted to practice in the State of California.
Mr. Hernandez attended California Western School of Law, where he earned his Juris Doctor. During law school, Mr. Hernandez worked as a law clerk for an intellectual property legal nonprofit, externed for a business/estate planning law firm, and started his own entertainment management company.
Additionally, Mr. Hernandez competed in his law school mock trial team in the fall of 2019 at the American Business Trial Lawyers competition. Mr. Hernandez was also Vice President of the La Raza Lawyers Student Association. Prior to law school, Mr. Hernandez worked as a legal secretary in Fresno for a labor/employment defense law firm and helped his parents at their family restaurant business.
Mr. Hernandez is originally from Fresno, California. He attended University of California, Santa Barbara where he earned his bachelor's degree in Political Science and Minor in Exercise & Sports studies.
In his free time, Mr. Hernandez likes to watch movies, play tennis, work out, and travel.