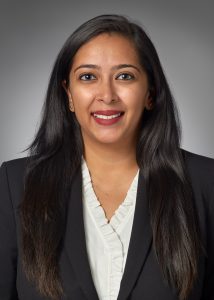 Namrta Desai Shah is an associate attorney at Neil Dymott. Ms. Shah grew up in New Jersey and earned her Bachelor of Science magna cum laude in Finance with a Minor in Political Science. She earned her Juris Doctor from California Western School of Law.
While attending law school, Ms. Shah was recognized for her academic achievements in several courses including legal writing, contracts, and torts law. Ms. Shah's current practice areas include business and employment law, healthcare, professional liability, personal injury, and general civil litigation.
Ms. Shah has a diverse background and is fluent in Gujarati and English. When she is not practicing law, Ms. Shah enjoys traveling, photography, exploring scenic San Diego locales, enjoying global cuisine, and reading.