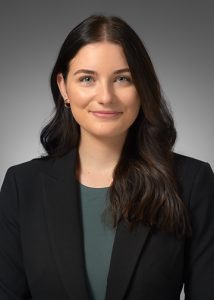 Marisa Sarti joined Neil Dymott as an associate in 2021.  Ms. Sarti's practice areas include defense of professional liability and medical malpractice matters, administrative licensing hearings for various types of healthcare professionals, and general civil litigation. She is a member of the San Diego County Bar Association and the Association of Southern California Defense Counsel. Ms. Sarti is admitted to practice in the State of California.
Prior to joining Neil Dymott, Ms. Sarti was an associate attorney at a plaintiff's employment law firm. She also served as a law clerk at a San Diego civil law firm, handling matters in real estate and personal injury litigation.
Ms. Sarti attended California Western School of Law, where she earned her Juris Doctor cum laude. While attending law school, she worked for the San Diego County Public Defender's Office, where she represented indigent clients at all stages of criminal proceedings. She attended the University of Las Vegas, Nevada, where she earned her Bachelor of Arts in Political Science magna cum laude. Ms. Sarti also worked as a substitute teacher in Clark County, Nevada.
Ms. Sarti is originally from Detroit, Michigan. On her free time, she enjoys reading, training for marathons, and baking Italian sweets.